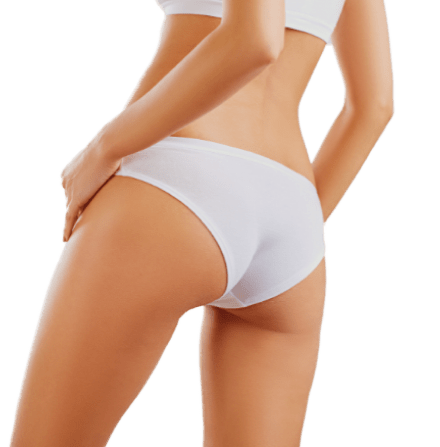 BodyTite-RF Liposuction
Minimally Invasive, In-Office Liposuction Procedure to Contour the Face, Jawline, Waist, Arms and Inner and Outer Thighs. True Liposuction With Simultaneous Skin Tightening
---
Ardmore BodyTite Liposuction, Skin Tightening
BodyTite is a major advancement for men & women looking to reduce fat without gaining sagging and wrinkly skin. In fact, many people choose BodyTite because of its ability to tighten and tone saggy skin caused by weight loss or due to aging. BodyTite is a minimally invasive procedure that shapes, tightens and lifts without a scalpel or a scar. You are left with surgical-like results without the added downtime.
What Areas Can Be Treated?
If you can imagine it, it can be treated: stomach, arms, chest, muffin-top, knees and inner/outer thighs are some of the most common treatment zones. It can be used to tighten the jawline, redefine the chin and lift the neck for a non-surgical facelift. BodyTite can even be used as a non-surgical breast lift and can reduce unwanted breast tissue in men (gynecomastia). Bodytite can improve the intimate areas for women with incision-less labial reduction, reducing up to 50% of the labia without having to undergo a surgical procedure. Multiple areas can be treated in one visit. Each zone takes approximately 20 minutes of treatment.
The fat that is removed from any of these areas (outer thighs, inner thighs, hips, lower back, and lower abdomen) can be transferred to other body parts that need more volume, such as hands, breasts, or buttocks.
What Is The Technology Behind BodyTite?
It's different because it uses RFAL (Radio-Frequency Assisted Lipolysis) that addresses some of the shortcomings associated with traditional liposuction or surgical body lifts. Because it applies energy both internally and to the surface, BodyTite tightens skin layers as it removes fat. This is technology that is missing with standard surgical liposuction and with surface laser fat melting procedures. BodyTite is a safe and effective treatment with over 20 peer reviewed publications. You can learn more about the technology by visiting www.bodytite.com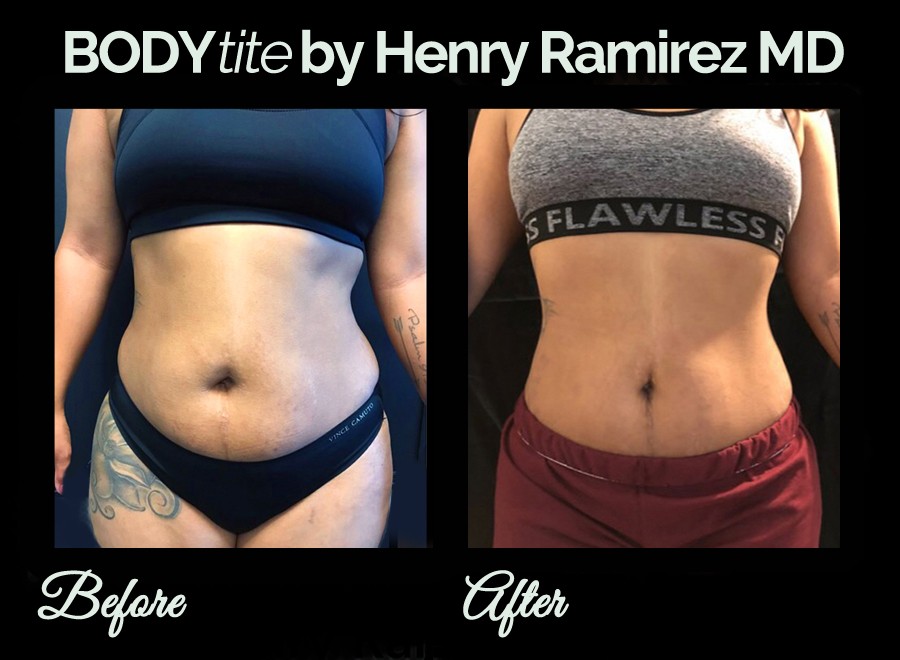 How Is BodyTite Different From Other Fat Melting Lasers?
There are a number of key differences between BodyTite and other types of topical fat melting procedures, such as CoolSculpting, Exilis Elite, Zerona and others. BodyTite is a minimally invasive form of liposuction that is performed under mild sedation. Fat is permanently extracted through small incisions sites and the skin is tightened using the power of radio frequency. Because fat is immediately eliminated, it is a true form of liposuction. The results can be seen instantly and are permanent with most patients back at work within 1-2 days. Patients usually only require one treatment per area. CoolSculpting, Zerona, Exilis and other forms of surface treatments are non-invasive and use extreme heat or cold to destroy the fat cells – causing them to shatter and die. The results take up to 12 weeks to be visible. Usually patients will have somewhere between 2-8 treatments on an area to achieve the results that we can obtain with BodyTite in just one treatment. By comparison, the cost of multiple treatments can be significantly higher than a single BodyTite treatment.

How do I request an appointment?
To learn more about the treatments that are right for you, contact us to schedule a personal consultation.
SCHEDULE CONSULTATION
How Quickly Will You See Results With BodyTite?
Most areas require only one treatment! Results can be seen immediately, with best results noticeable after 3-6 months.
How Should I Plan For My Procedure?
You may want to plan to have a couple of days off work – or plan around a period when your time is flexible. Depending on the treatment area, downtime can be from 1-2 days up to 10 days. When we discuss your treatment plan, we'll help you estimate your necessary time off. Because BodyTite tightens loose skin as it eliminates fat cells, you will likely love your new shape even more than you ever imagined! BodyTite and it's facial counterpart: FaceTite, are remarkable procedures that can be combined with Fractora, Botox and other procedures we provide to complement your complete look.